Congratulations Newell High School class of 2017.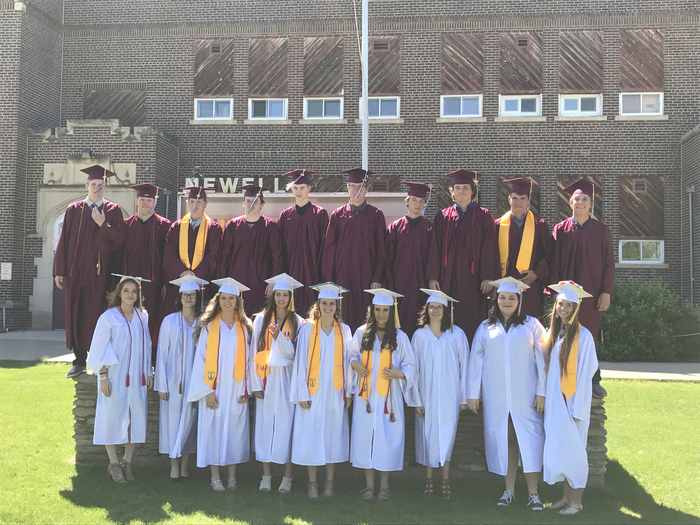 Good job today to the Newell golfers at the pre region at Hart Ranch. Both the boys and girls teams took 2nd. Individually Dylan and John tied for 5th. Adrianna took 2nd. Good luck next Monday at Regions.

Congratulation to the Newell HS/MS track teams as they traveled to Lemmon today to participate in the LMC track meet. All the Newell athletes did outstanding. The Newell High School Girls team won the LMC with a score of 189 followed by Lemmon's 148.

Good job golfers today in Belle both the boys and girls teams finished 2nd as a team. Individual placers for the girls Adrianna got 2nd and Abbie got 5th. Chase was 5th individually for the boys. Good luck Monday at pre-regions at Hart Ranch.

The 2016-17 Yearbooks are in. Stop in the office to buy/pick up.

The Newell golf team had a great day up in Lemmon in the LMC/Lemmon Invite. Both the boys and girls teams came home with LMC titles and the boys also won the Lemmon invite and the girls came in a close second both teams shot season bests with a 250 and a 328. Individual results for the girls: Adrianna 82 1st in both, Abbie 111 4th in LMC, Kassidy 135, and Emma 154. Boys individual: Dylan 79 2nd in both, John 85 5th Lemmon invite 4th LMC, Chase 86 5th in LMC, Huttson 88, Caleb Mutchler 116, and Caleb McGregor 139.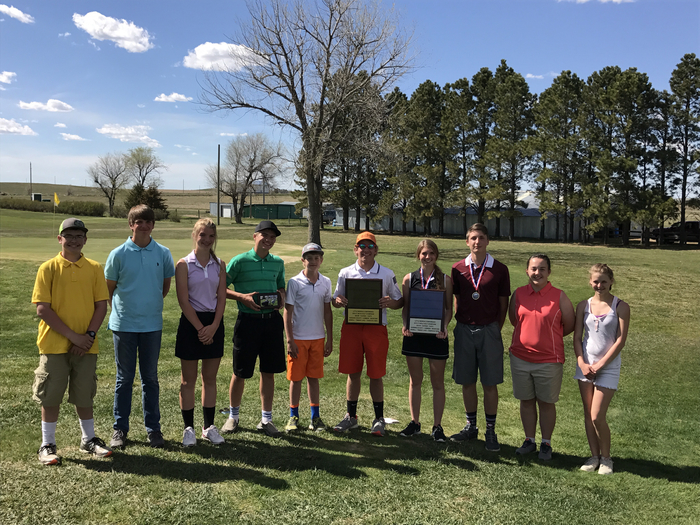 The High School Athletic Banquet will be held May 11th in the Middle School Gym starting at 6:30. Juniors and Seniors are to bring a side dish. Sophomores, Freshman and any Middle school (who participated on a HS team) should bring a main dish.

The 2016-17 Newell School Yearbook, is now on sale in the middle school or high school office for $15. They are hardcover and are expected to arrive during or before the last week of school.

Elementary Play day is May 10th starting at 8:15. If you are a volunteer helper there will be a short meeting at 8:00 am by the football field cross nest. Thanks

The Newell Golf meet schedule for Friday April 28th has been postponed until Friday, May 19th @ 9:30.

Good job today Newell golfers at Devils Tower. Adrianna took 1st with a 76, Abbie shot a 120. Dylan got 2nd with a 82, John 5th with a 88, Chase 91, Huttson 95, Skylar 105. The boys took 2nd as a team. Caleb, Caleb, and Emma participated in a scramble and did very well.

Results of today's Special Olympics area swimming: -Dontae Boesem 1st place in his division for 15 m assisted swim -Jeremy Boesem 1st place in his division for 15 m assisted swim -Frannie Boesem 1st place in her division for 15 m walk -Destiny Egleston 1st place in her division for 15 m freestyle -Destiny Egleston 1st place in her division for 25 m floatation -Xya Elmore placed 1st with her team for 4X25 M Unified Relay -Xya Elmore placed 1st in her division for 25 m freestyle -Xya Elmore placed 1st in her division for 50 m freestyle -Highlights of the meet will be on News Center 1 NBC at 5 p.m.

Congrats Newell golfers. The boys finished 2nd as a team with a 264. Dylan was 4th with an 83, John 5th with an 85, Chase shot a 96, Skylar 102, and Huttson 109. Adrianna got 2nd in the girls with an 84, Abbie shot a 120, and Emma 210. Good job today in Philip.

The Newell seniors will be presenting their senior projects on Wednesday April 26th. They will have their projects set up in Austin from 8:30 a.m to 3:30 p.m. The public is welcome to stop by and see what they have been working on. The seniors would love to show you their projects. If you have time please stop by.

Reminder: Newell students do not have school on Monday, April 24. Teachers will be attending a conference.



The golfers had a good day in Wall under less than perfect windy conditions. For the girls Adrianna was 1st (medalist) and Abbie took 5th. Emma also had a good first tournament. For the boys John once again tied for 5th but lost in a scorecard playoff. Huttson, Skyler, and Caleb also had good days.

Middle School Play-The Absolutely Insidious and Utterly Terrifying Truth About Cat Hair. Matinee for the student body at 2 pm on Thursday April 13. Public performance on Thursday April 13 at 7 pm.