Newell Student of the Month
Lower Elementary Student of the Month: Remi Thorstenson
Upper Elementary Student of the Month: Lilyanne Epple
Middle School Student of the Month: Rhyden Thompson
High School Student of the Month: Hunter Boury
Remi has been a wonderful student to have in the classroom since day one. She is caring, considerate, responsible, determined, and hardworking. She is always able to follow my expectations and keeps her other classmates accountable. If someone is hurt, she is the first one to ask if they are alright and give them a helping hand back up. If a classmate spills something, she is the first one to lend them a helping hand and get it cleaned up. She does all of this with a smile on her face. I am so grateful that she is in my class and I can't wait to see how many people she affects with her loving and caring character.
Lilyanne is very deserving of this honor. She exemplifies so many of the PRIDE qualities. She comes to school ready to learn with a smile on her face every day. She takes part in class discussions without interrupting others and has lots to contribute. She is very respectful of all of her classmates and works well with them in group settings. When she is out at recess, she will go out of her way to help and play with some of the younger students that might need some redirection. Congratulations, Lilyanne!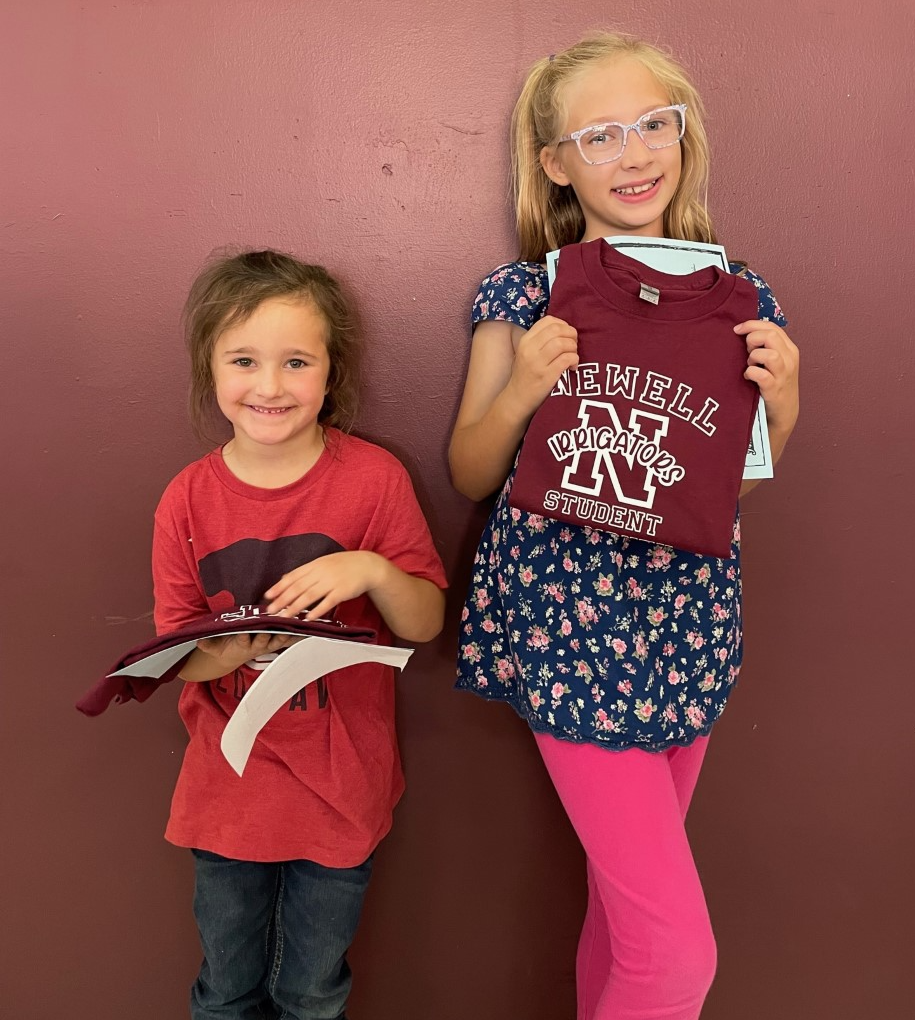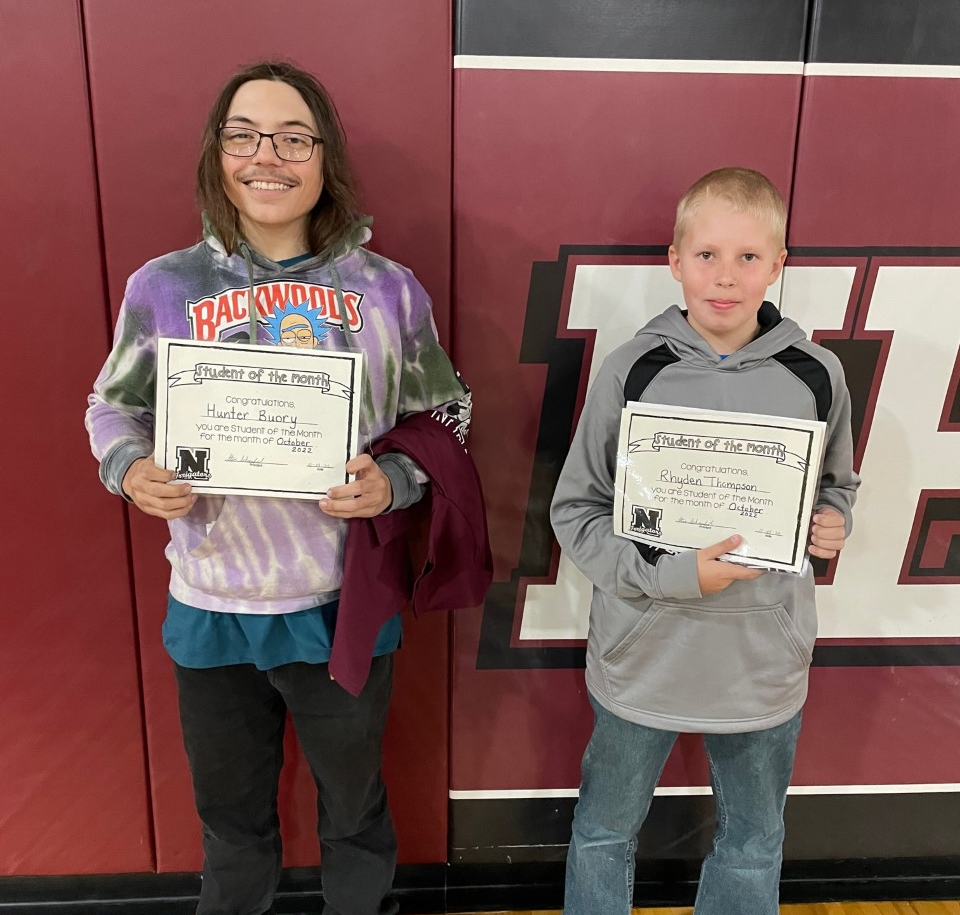 Lower Elementary Student of the Month: Taylor Wendt
Upper Elementary Student of the Month: Jessi Bachman
This student comes into the classroom with a smile every day. She is always willing to help out and wants to do anything she can. Taylor loves to give hugs and seems to know just when one is needed. I was having a really hard day and she came in and without skipping a beat said, "Mrs. Clements can I give you a hug? It seems like you need a hug today." Little did she know that I really did need that hug to help me get through my day. Taylor loves to tell stories and inform everyone of things that are going on at home or that she has done. She is willing to answer questions and always has her hand up ready to say any answer whether it is right or wrong. She doesn't get upset if she is wrong and will just so, "Oh, well I thought that but that's ok." She is a great addition to the classroom and is deserving of this award. Taylor, thanks for making everyone feel welcome and for being a great person.
Jessi has been such an amazing addition to our class. As a new student, it sometimes can be challenging to come into a new school and connect with classmates, but that has not been an issue in Jessi's case. She has formed great relationships already and that is through her kindness and willingness to adapt to new surroundings. Jessi is very kind, caring, and polite, and finds a way to bring a smile to your face each and every day! Jessi not only has been a great addition socially but also in her academics. She does a great job in her time management and works very hard in academics! Great job Jessi, Keep up the good work!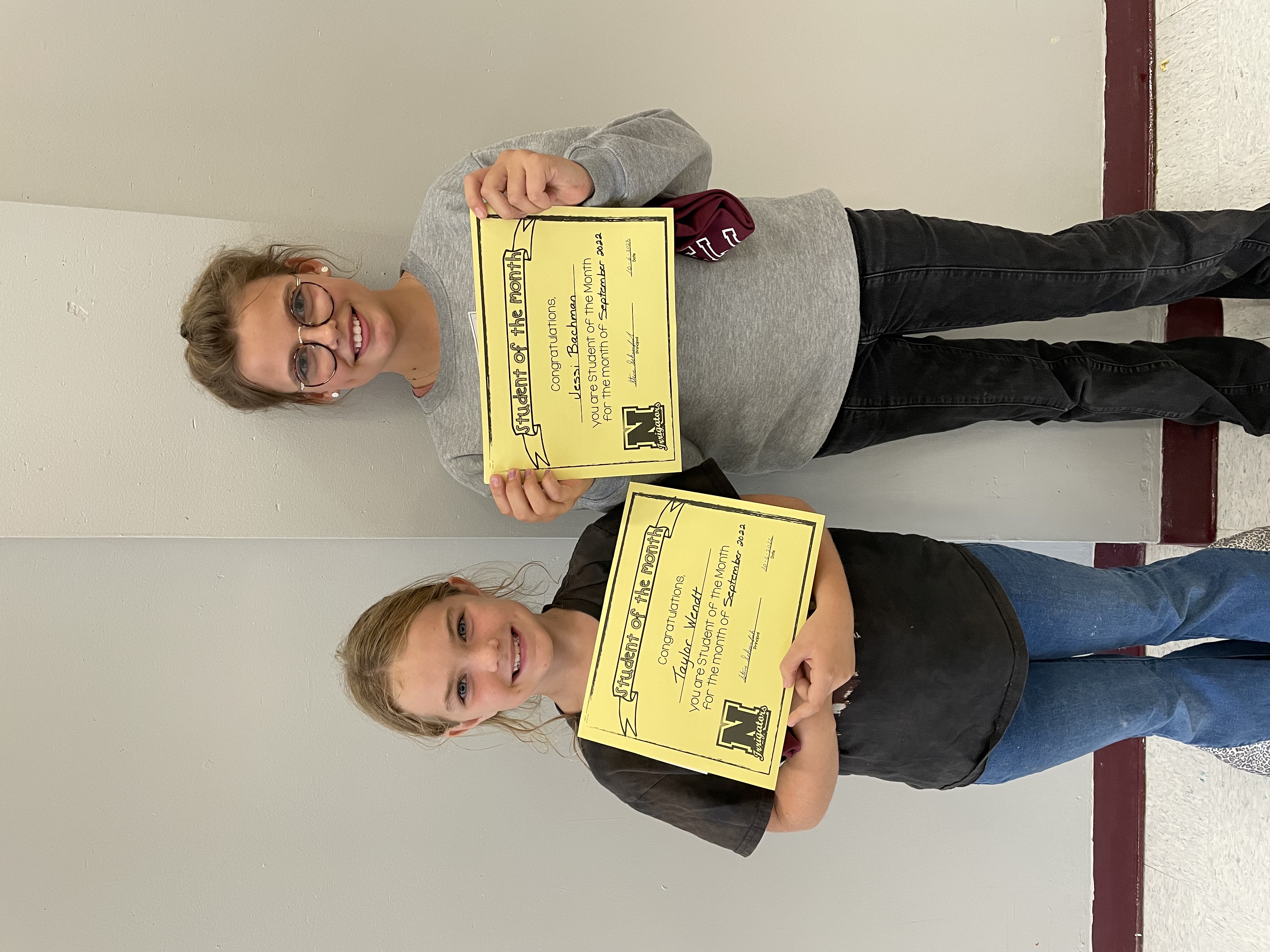 Lower Elementary Student of the Month: Abigail Schwede
Upper Elementary Student of the Month: Kylee Martin
Abby is a wonderful student to have in our class. She is very kind and respectful to the teachers that are in the room and to the other students. When she has to correct something or doesn't understand something she is always kind in asking for help or accepting help in correcting her work. When you ask some of the kids in our class about Abby, a few things that they say are she is a good friend, she likes to read the same things I do, she is fun to play with. When I see Abby on the playground or at specials she is always respectful to others and she is sharing things. Abby is a joy to have in our class.
Congratulations Abby on being a great Student of the Month!
Kylee is a ray of sunshine in our school. She enters every room with a big smile on her face and a kind greeting. When asking Kylee how she is doing when she gets to school her answer is almost always "Fantastic!" Her positive attitude is having a major impact on the classroom and her classmates. Kylee and the people around her can often be seen laughing or with big smiles on their faces. Kylee is also bringing that positive attitude to her work. She works hard on everything she does and is even faced with difficult tasks. Kylee's reading and math skills have improved greatly over the years, proving that hard work in school every year can lead to great things. Kylee is a tremendous role model and a great asset to any class she is in.
This student literally brightens my day. She truly has a good heart, which shows in the way she treats those around her. This student tries her hardest in all she does. She takes pride in her work and continues to grow. She is honest; someone friends and staff can truly trust and rely on. She is fun. We have laughed so hard with her, that we have cried. This student enjoys making others laugh and smile. She talks respectfully to others,even when upset. This is a student that others, adults included, remember and notice because of her kindness and integrity. Even if she makes a mistake, she admits to it and learns from it. I am beyond proud of her, and grateful I have gotten to know her over the years. Miss Nellie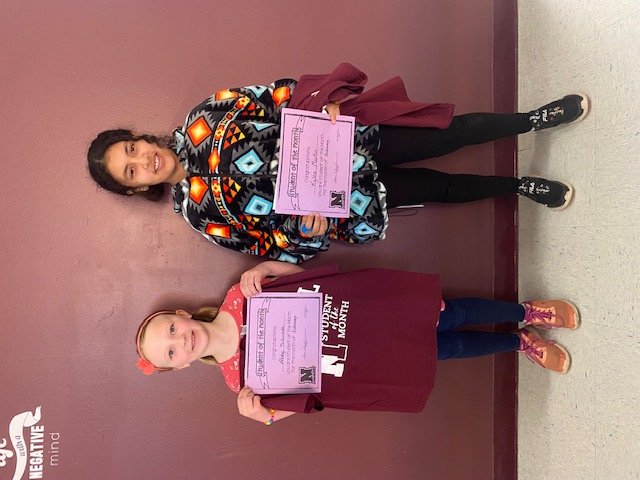 April
High School Student of the Month: Asiah Schaefer
Middle School Student of the Month: Natalie Yates
Upper Elementary Student of the Month: Brynlee Barrera
Lower Elementary Student of the Month: Sadie Lindsey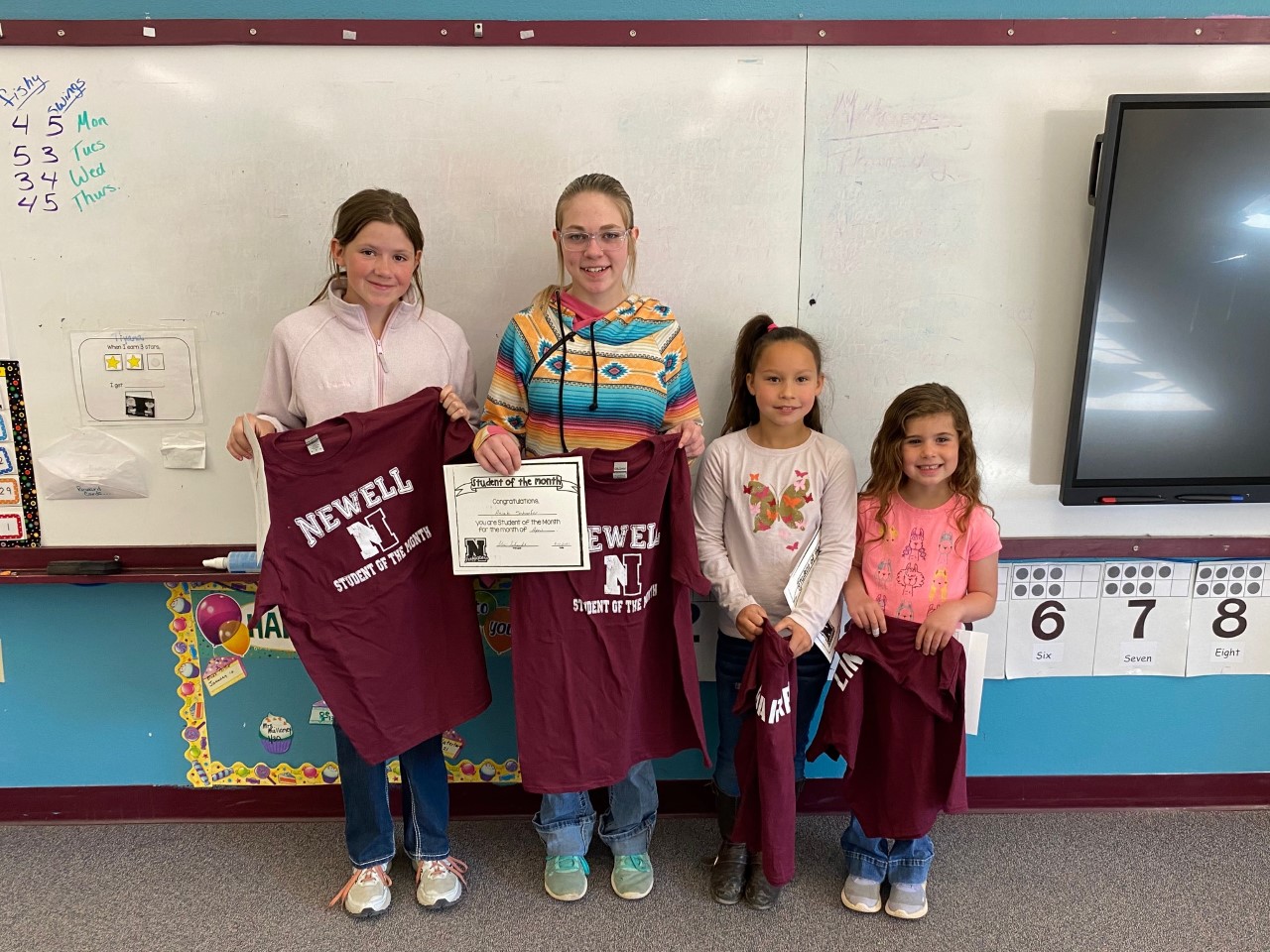 March
High School Student of the Month: Kaira Stomprud
Middle School Student of the Month: Hailey McCann
Upper Elementary Student of the Month: Dylan Evans
Lower Elementary Student of the Month: Lilyanne Epple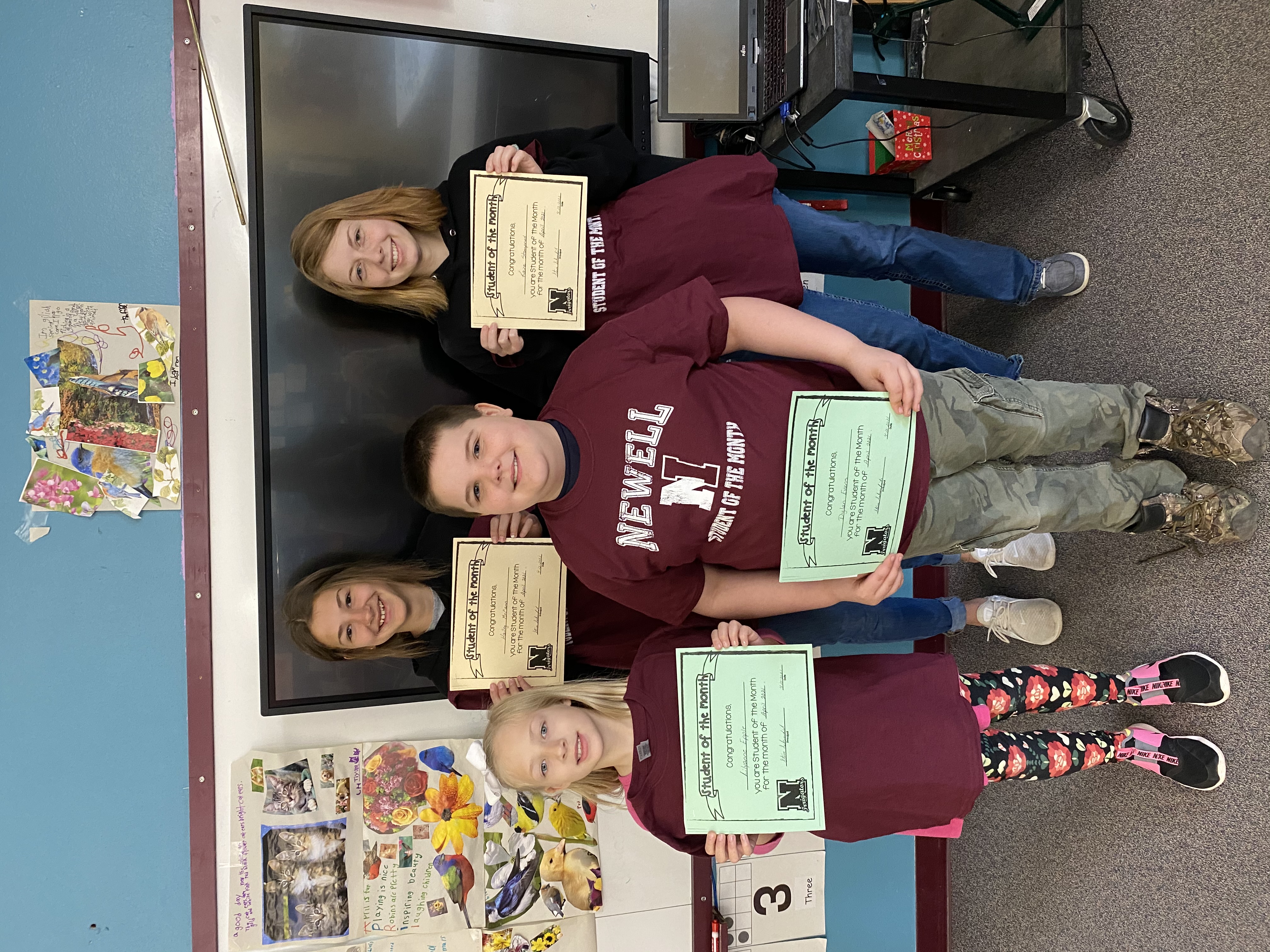 February
High School Student of the Month: Justin Yates
Middle School Student of the Month: Malichi Whitacre
Upper Elementary Student of the Month: Karley Larson
Lower Elementary Student of the Month: Lillian Raisanen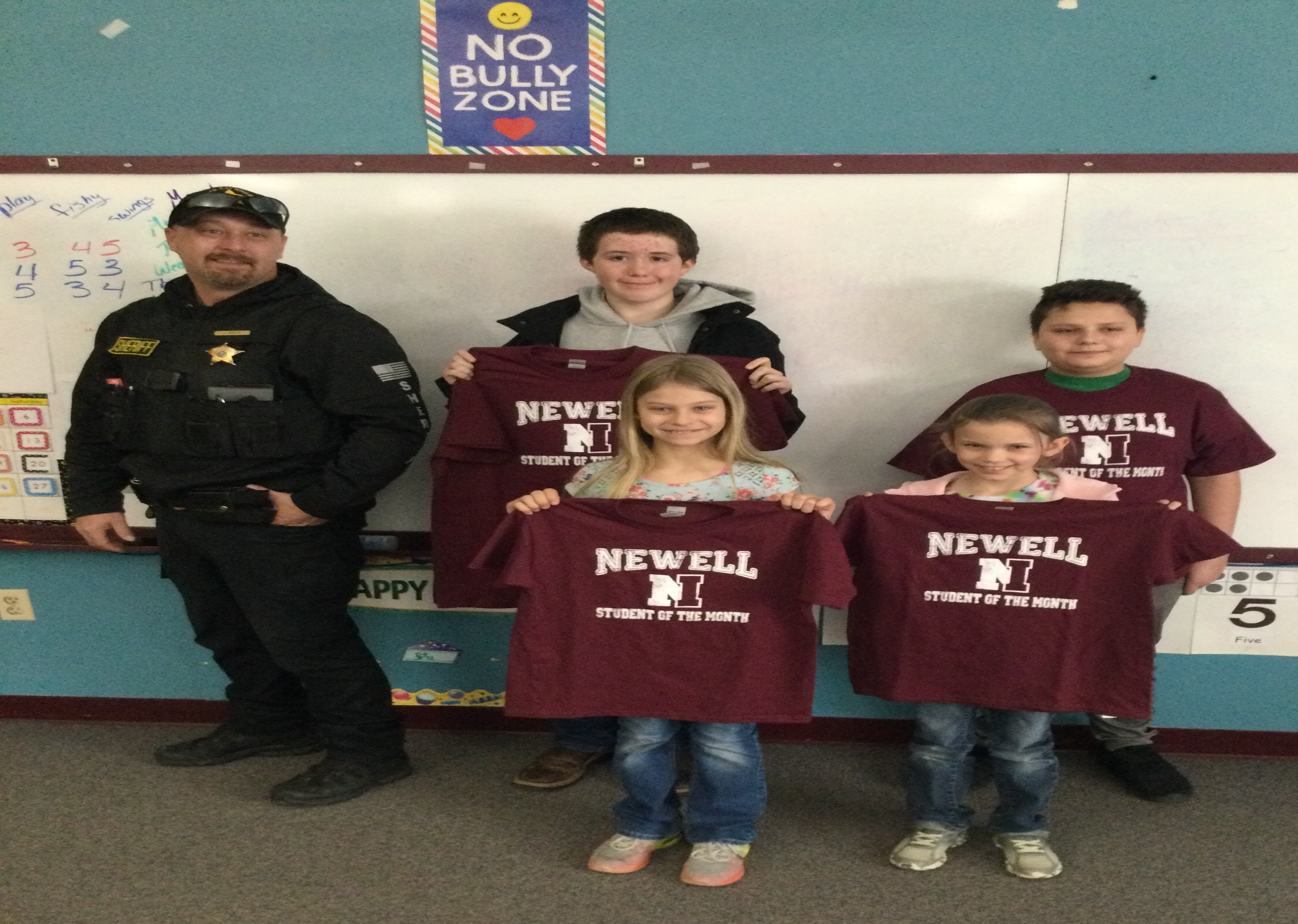 January
High School Student of the Month: Wyatt McGraw
Middle School Student of the Month: Jenna Yule
Upper Elementary Student of the Month: Jacey Larson
Lower Elementary Student of the Month: Rosie Suster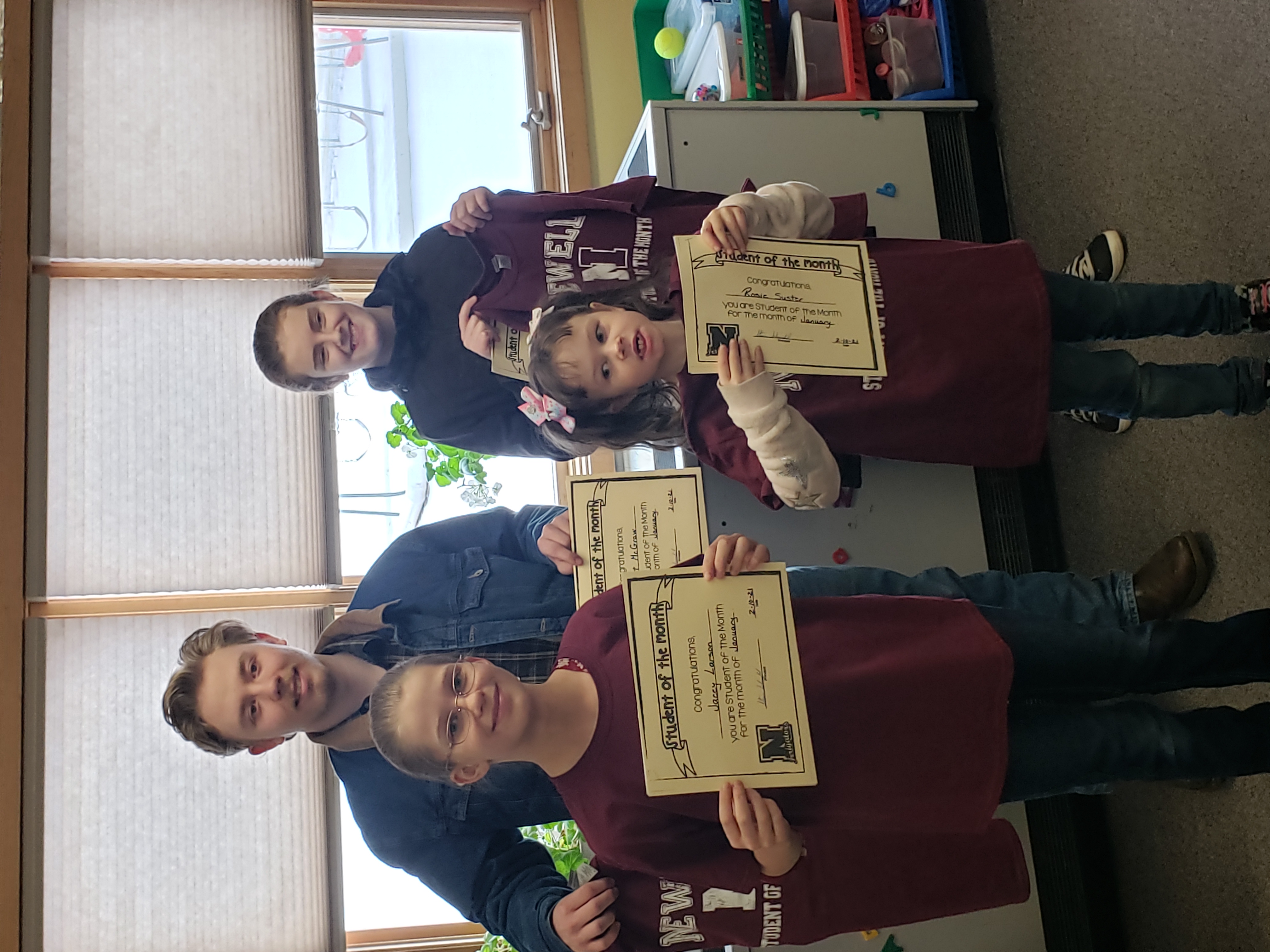 December
High School Student of the Month: Jaelyn Wendt
Jaelyn not only has personal initiative, but she is kind and helpful to other students. Great job Jaelyn! Mrs. English
Jaelyn is an outstanding student that is always smiling and telling jokes. She is driven to be successful and her attention to detail will keep her headed in the right direction. Jaelyn is a run toward the challenge type of person. Mr. Wince
Great job Jaelyn! Remember to always keep asking good questions! Mr. Decker
I am so happy that you are receiving this award! I have had the privilege of knowing you your whole life. I have seen your determination, drive, kindness, and great work ethic. Due to these amazing characteristics, your life journey is going to be outstanding! Mrs. Smeenk
Middle School Student of the Month: Michael Lawson
Smiles all the time, helps everyone, good leader, and is positive to everyone. Mrs. Erk
Michael is a model student in my class. He is always kind to others. He is quiet and respectful to his teachers and peers. He is generous and always shares his gum with others. He is a bright spot in my day, and I look forward to seeing his smiling face each day. Mrs. Shaykett
Michael is one of the kindest most considerate students in Middle School. He is always eager to learn and strives to do his very best every day. He is kind to every one of his classmates, whether they are a close friend or not. He always has a positive attitude. I don't think Ive ever heard him complain! Thanks for being a delightful student, Michael. Mrs. Decker
Michael treats others politely, considerately, and respectfully. He is a cheerful and friendly young man who is very responsible, dependable, and fun to be around. Mrs. McCann
Upper Elementary Student of the Month: Kiley Yates
Kiley is a very hard worker in and out of class. She is willing to help other students and doesn't ever get mad when she is corrected. She just says, "Oh yeah, I know that isn't right." She is very kind to others and is always happy and smiling. She loves to help the other students. I truly enjoy her in class and she is liked by all her classmates. Mrs. Clements
Kiley is a very sweet girl who is very caring and cares about her classmates. She is also very determined to get her work done and do a good job. Mrs. Youngberg
Kiley gives it her all, no matter what the task. She never gets frustrated when she makes a mistake or doesn't understand, she works through the problem. Kiley encourages others to do their best. Mrs. Waterland
Lower Elementary Student of the Month: Liam Raisenan
Liam is a kind-hearted boy. He is willing to share with anybody and includes everybody. He notices if someone is feeling left out and will welcome them into his activity. He always has a smile on his face and is excited about being at school and with his friends. He is respectful and listens well to the adults in his classroom and the school.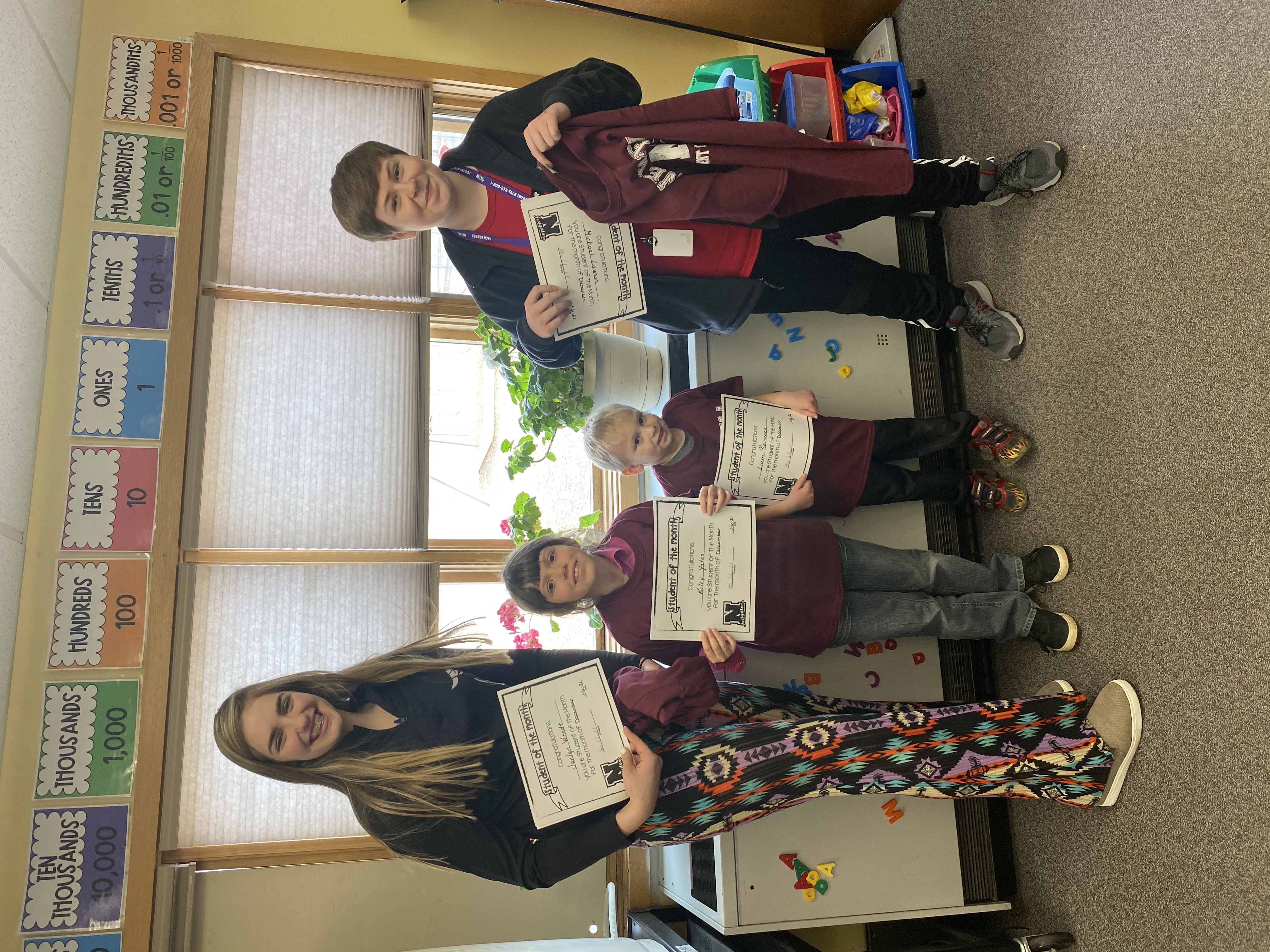 November
High School: Bailee Yule
Middle School: Jayden Tesch
Elementary 3-5: Rilee Crockford
Elementary Pre-K- 2: Paisley Braun
High School Student of the Month-Bailee Yule
Bailee is an amazing young woman that goes above and beyond in class and out of class. She has a skill set that she is willing to use to better our school and community. I love that Bailee is honest and always willing to try. Her work on the production of the Veteran's Day program was above and beyond. She spent several hours working on this project including impromptu recording and editing the day before the presentation for the last-minute additions. I believe that Bailee deserves to be student of the month. -Mrs. Stomprud
Bailee goes above and beyond to help students understand concepts. She is a GREAT role model. -Mrs. Burtzlaff
Bailee is a conscientious concession worker, teaming up with others to help the process go smoothly, correctly, and even serves the public with a smile! -Mrs. Jensen
Bailee you rock! -Mr. Decker
Middle School Student of the Month- Jayden Tesch
Jayden is very helpful to his peers but also stays on task to complete his own work. He is polite and very respectful. `-Mrs Kondel
Jayden seems to be adjusting well to a new school. He is a hard worker who cares about his grades. He is friendly and has a positive attitude! -Mrs. Shaykett
Jayden keeps up with his schoolwork and is willing to help others with their work also. He is cheerful and friendly. -Mrs. McCann
Upper Elementary Student of the Month- Rilee Crockford
Mrs. Reichert: It is a pleasure to have Rilee in my classroom. Rilee is very well liked by his classmates and teachers. He is always polite. His finest quality is that he is very trustworthy and honest. Rilee is a hard worker, always getting his work done quickly and on time. He is a great storyteller, especially when it comes to his grandpa's tractor. He can talk for a long time about that tractor. He always plays fair with his classmates and makes sure that everyone has a turn. He is very helpful, helping both teachers and classmates alike. He is a lot of fun to be around and an excellent student of the month candidate.
Lower Elementary Student of the Month- Paisley Braun
Miss. Stalder: Paisley has one of the kindest hearts I have ever seen. She is always there for anyone when they are sad or when someone needs a helping hand. She carries a positive attitude with her every day and works hard in school. Paisley is an excellent role model for other students!
Mrs. Fox: Paisley is always so caring of those around her. She is genuinely concerned about their well being! Paisley never has to be prompted to get her work done, she works at a steady pace until it is completed. Good manners are a part of her vocabulary and come naturally without having to remind her of it. She is truly a joy to be around.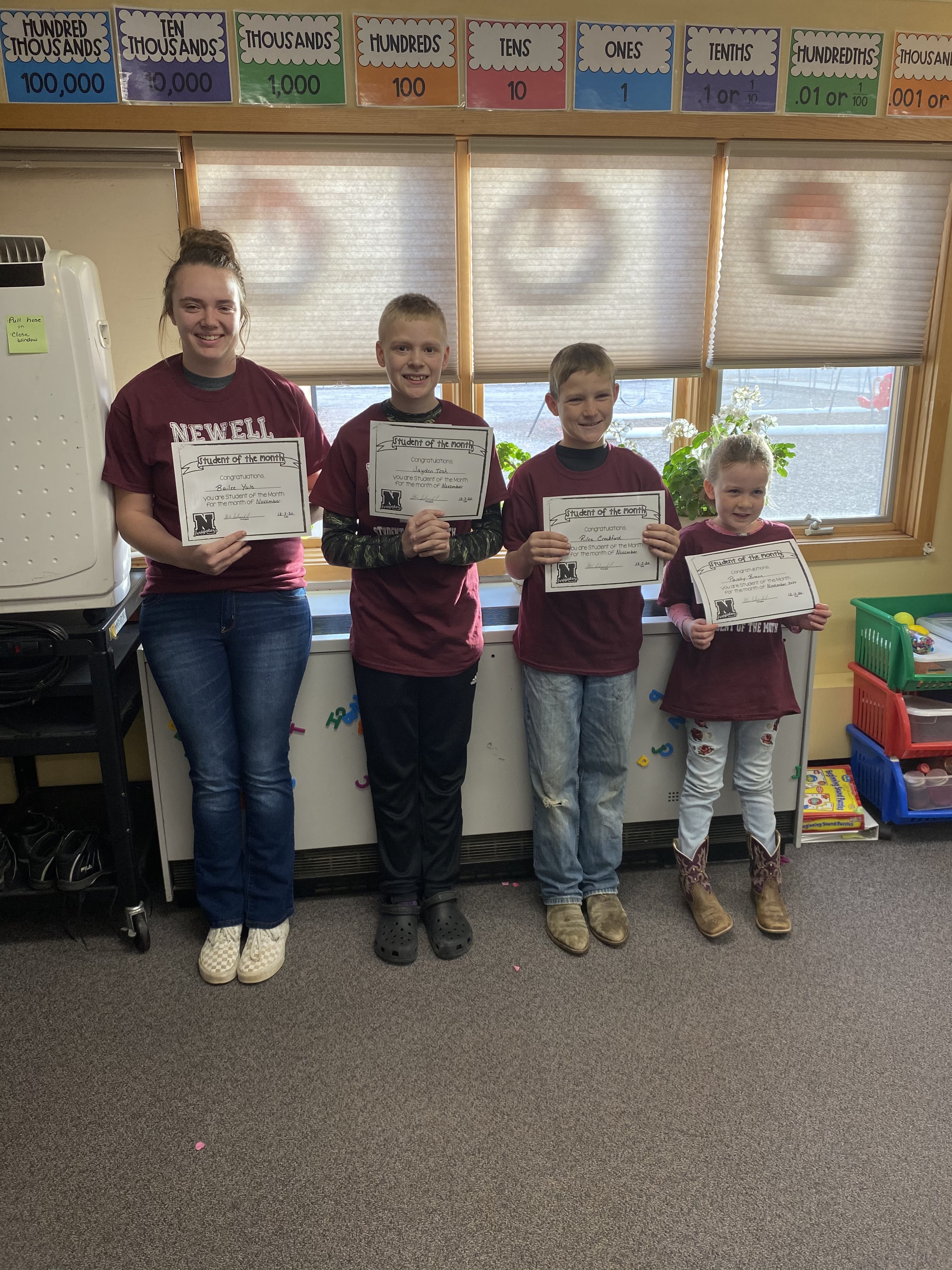 October
High School: Eli Myers
Middle School: Kianna Miller
Elementary 3-5: Alex Yates
Elementary Pre-K- 2: Caitlyn Rans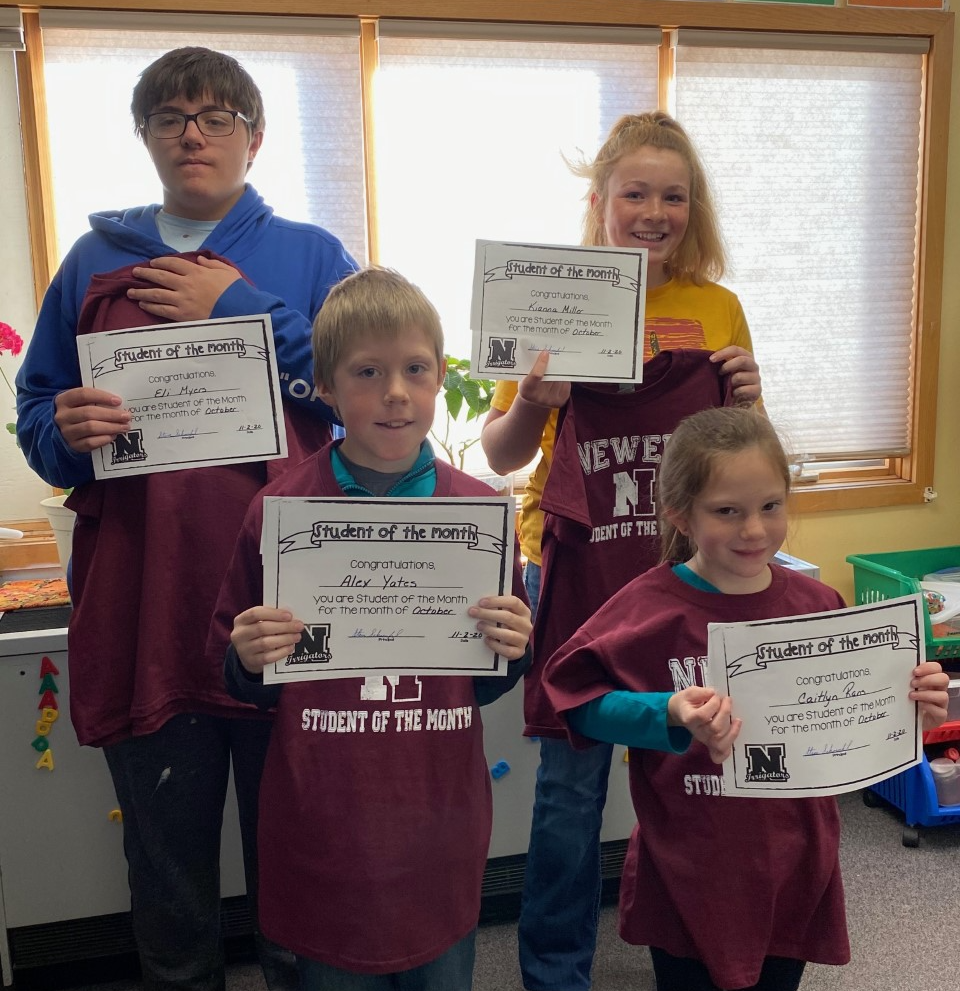 High School: Shaley Dirk
Middle School: Joe Eaton
Elementary 3-5: James Gatzke
Elementary Pre-K- 2: McCoy Mangis
"Shaley is an exceptional student. She is intelligent, diligent, and hardworking. Her varied interests extend beyond schoolwork to include animal husbandry. Shaley is quiet and good-natured. She serves as a valuable role model for other students."
"McCoy Mangis is an excellent example of what Newell PRIDE should look like. He works hard every day, giving 100% of his effort to everything he does. He is kind to all his peers and respectful to staff. He is willing to pitch in and help anyone! McCoy is an outstanding student!"
"James is one of those kids that everyone is drawn to. He is kind, fun, and caring. He is always willing to do what is asked of him. He is a little goof! He wants to make people laugh and make them happy. He is always respectful towards adults and his peers. You can count on him to be responsible, honest, and have integrity. I have never seen him upset another student. He is compassionate towards others and their feelings. James is a joy to work with and have in the classroom."
"It is with great pleasure to announce our first very deserving student of the month recipient, 6th grader, Joe Eaton. It is a pleasure teaching Joe each day for he is a respectful and responsible young man who consistently perseveres. He asks questions, learns, and works diligently every day. He is earnestly inquisitive with a positive mental attitude. Superintendent Fergen's two goals/priorities for students this year were to be kind and to persevere and Joe does so daily in his words and actions. Congratulations Joseph!"